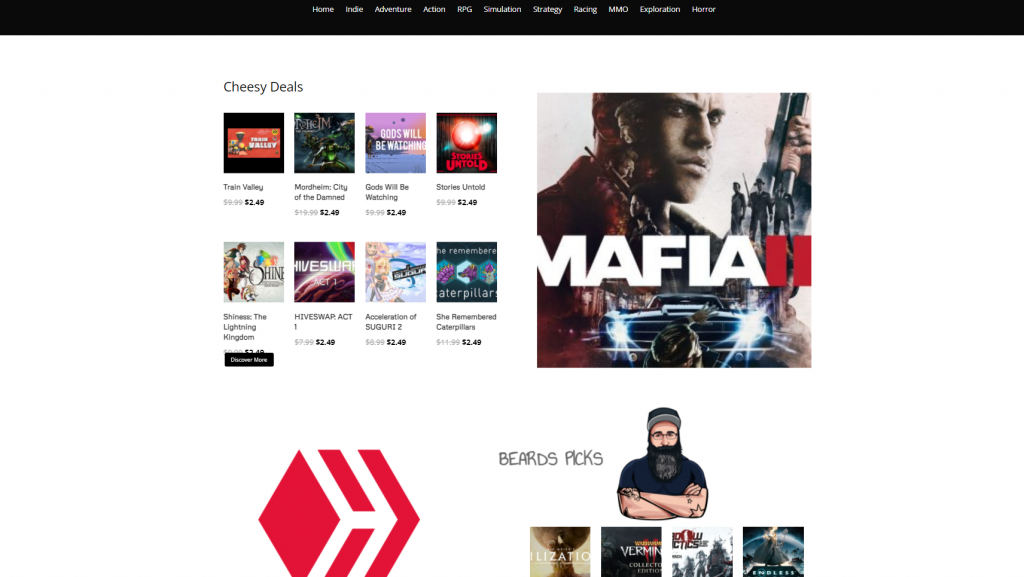 Did you know that you can purchase video games with your Hive-Backed Dollars and/or PIZZA tokens? The PIZZA token team is bridging the gap between traditional PC gaming and the HIVE blockchain through the hive.pizza website!
Buying games (and saving money) has never been easier for HIVE users! Let's go over the short and simple steps to purchase your first Steam video game using PIZZA or HBD.
Step One:
First, head on over to the hive.pizza store and explore the selection and awesome deals we have available! There are some hot prices!

You can explore some cool categories we've prepared for you on the front page of the shop or you can select from a multitude of genres from the explore bar at the top!
You can also search for specific titles in the search bar on the right-hand side as you scroll down the page!

Step Two:
Once you've decided on which game you want, go ahead and click on the thumbnail to bring up the product page. Here you can read more in-depth details about the game and add it to your cart.

Click on Add to Cart when you're ready to add the game!
Once the game has been added to your cart, you'll receive a notification indicating you're good to go!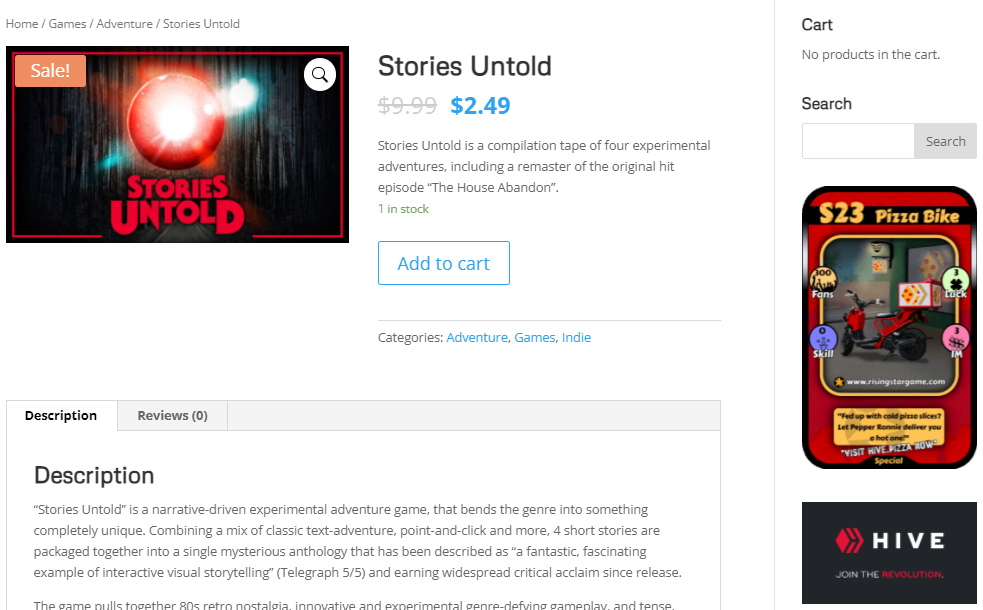 Step Three:
Click into View Cart and you will see any games that you've added and can begin the checkout process!

Simply hit the back arrow in your browser to go back to the shop if you'd like to add more games.
Click the red 'x' arrow to remove the item from your cart.
When ready, click 'Proceed to checkout'.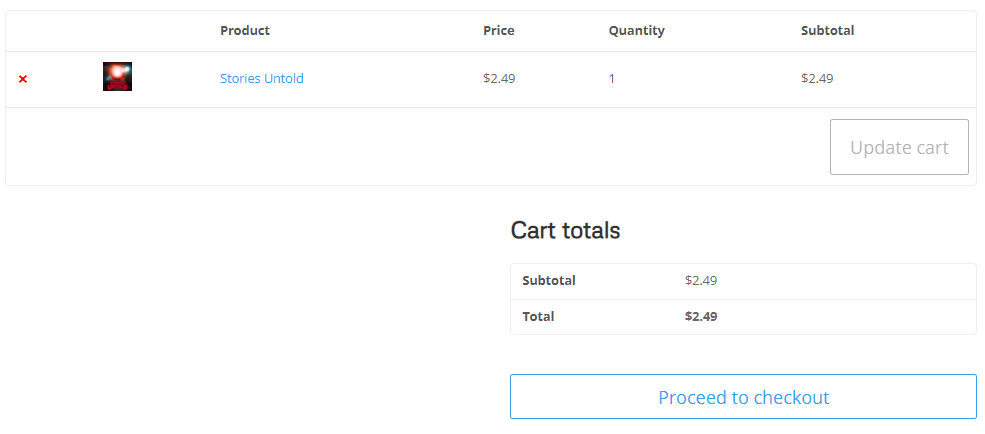 Step Four:
In the next screen, you will be required to add a backup email at which you will receive your keys incase you lose them.

Make sure to use an email address that you have access to. We will not be responsible for lost keys.
When ready, click on 'Place Order'.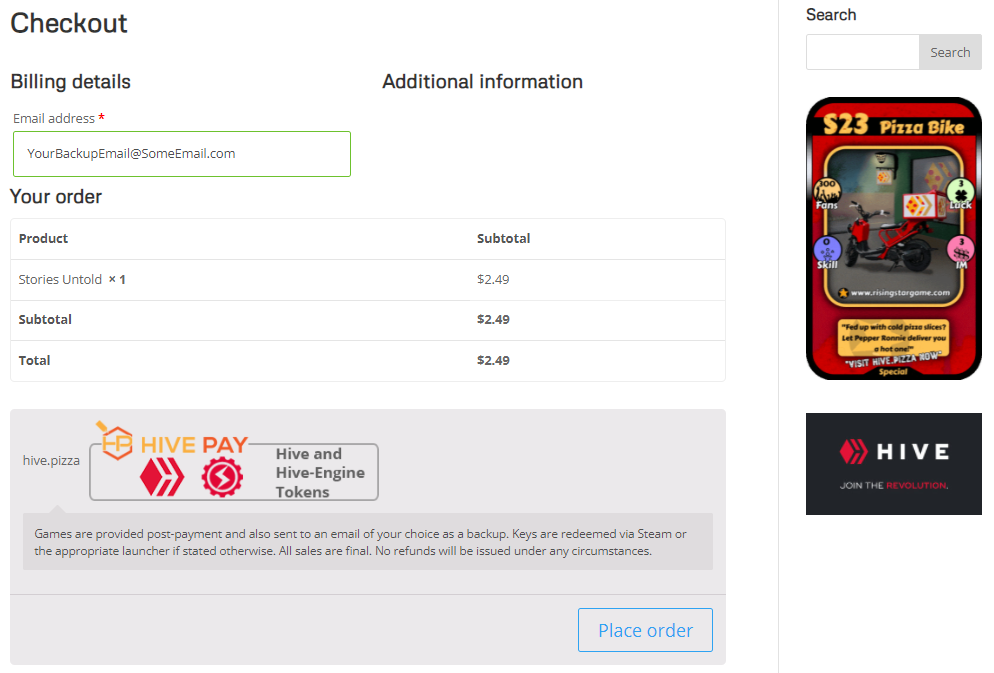 Step Five:
You will then be redirected to the payment gateway. We currently utilize another local Hive project called HivePay. Go ahead and choose the currency type that you'd like to pay with. You can choose between PIZZA and Hive-Backed Dollars at this time.
You'll then need to enter your HIVE username in the input below the currency selection. You'll need to approve the request through Hive Keychain so make sure you choose a username that you have key access to in your Keychain extension!
Click 'HiveKeychain' when ready to begin the transaction.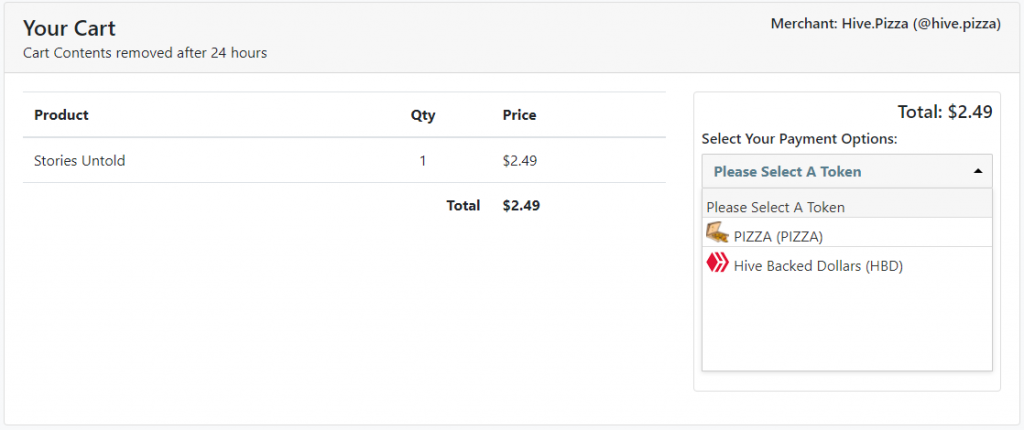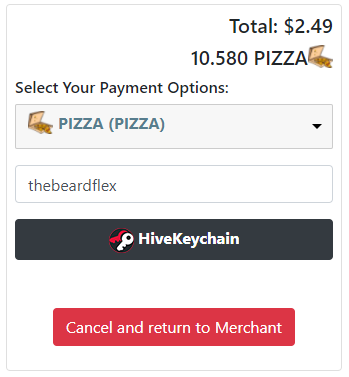 Step Six:
Once the transaction has been approved, please allow the website a few moments to process and deliver your keys.

You may experience a few moments delay. This is normal.
Once validated, you will be redirected to the order confirmation screen. If you do not see your key listed at the bottom of the page, simply refresh and your key will load.

In the event that your key does not display, please refer back to the email you provided during check-out. You should receive an email with your back-up key almost immediately!
If you run into any issues, feel free to reach out to us in our Discord channel!
That's it! You've now used your PIZZA or HBD to purchase Steam games on the Hive blockchain!
We're planning to expand the store quite a bit! Please feel free to give it a try and drop us some feedback in our Discord!